Artist: Jeff Lane
Album: Songteller
Release Date: August 8, 2019
Label: [Independent Release] Farm Dog Publishing
Personnel:
Jeff Lane: Vocal, Guitar
All songs by Jeff lane
Recorded, Mixed and Mastered in Kingsport, Tennessee by Jeff Lane
Tracks:
1. Me And Jesus Having A Beer, 5:35
2. Rings, 5:30
3. I'm Getting Married In Gatlinburg Again, 4:11
4. Movin' On, 4:47
5. Parts Of Me Are Blue, 2:15
6. Bad Land, 4:11
7. Love And War, 3:18
8. Jones, 5:07
9. I Drank And I Drank With Willie And Hank, 3:59
Reviewer: Jason A. Bermiller
Kingsport, Tennessee's Jeff Lane may rank as one of the best discoveries on the folk scene today. Far from an overnight success, Lane is a veteran… sort of. Far from living the average story of an emerging artist, Lane started his live performances at the age of 40. I have got to know Jeff well over the past few months, the two of us becoming close friends, and he has been very forthcoming about his later start in performing live when talking to me and to his audience during his live-streaming solo concerts on Facebook. Despite having played guitar since he was a young boy, Jeff claims that he was terrified at the thought of performing in front of people for many years. Quite a surprising piece of information given that he performs today with great confidence.
Lane's 2019 album Songteller is a collection of powerful, honest pieces that cloak some of the sophistication and expertise on this self-recorded, self-mixed, self-mastered independent release. If you are looking for a story journey that will engage you and take you away, then Jeff Lane's Songteller is the album you should familiarize yourself with. This is a 100% self-release, so the album is more like a visit to Lane's living room rather than a "full" experience with a completely produced album. Nevertheless, it's an intriguing set of songs by Lane.   
The title Songteller not only refers to the stories that each song "tells", but also to the fact that Jeff tells the stories that resulted in his songs, stories that are human and sublime all at once, stories that are so personal that they expose parts of Lane's inner world, stories that touch the heart. From funny to amusing to heart-wrenching, Lane's songs stay with you because they are, sometimes painfully, honest. Such personal transparency in songwriting and performing is not common these days. Many artists might shy from such straightforwardness, possibly because to be that honest an artist must have the guts, the sheer strength, to be vulnerable. So, no wonder Lane was reticent to play in front of people when he was younger. Maybe it's because he needed some more life behind him to give him confidence and fortitude.
Another strength that Jeff has is his voice. It is a sonorous, deep, soulful voice that eases open the door for you to have a sit and maybe a 'sip'. Lane's voice welcomes you into a space that few singers have the ability to create: a home for your heart and soul to rest a minute. His fans are ardent and devoted, primarily because of this rare combination of vulnerability, world-class song crafting, and trustworthy humanity. It was probably from this reception at his one-man gigs that Lane decided to record these songs with just him and his guitar.
Songteller opens with "Me And Jesus Having A Beer", the story of a man, yes you guessed it, having a beer with Christ… in a church parking lot… in his car. Lane's lyrics pierce through this gentle, almost lullaby-like track:
"We talked all about the broken pieces of my life, my five minutes of fame, and about all my ex-wives
Well I got over them, but talkin' 'bout the kids must have plucked out my eye
I put on my sunglasses and I blamed it on the light. Truth is, I guess I didn't want Him to see me cry,
We were just sittin' there in the car, Him and me and my pride."
"Rings" brings a cooler, darker tone to the album. Settling into a lament, Lane's spare guitar cries over the mistakes of a life filled with regrets. Jeff mixes soulful roles in his vocalizations in this "hard" song. "I'm Getting Married In Gatlinburg Again" bounces out as a relief from the soulful depths that open the album. Laced with fun and danceable rhythms, "Gatlinburg" draws an easy smile. That smile continues with the humorous "Parts Of Me Are Blue", a reverse love song that ends in shallow lust, or at least lust resolves the "problem"… sort of. The listener is left wondering what the narrator is thinking by the end of the song.
"Love And War" has a lilting rhythm that belies the sincerity of the narrator's desire for a truce in his relationship, a relationship that needs healing. Lane approaches the issue with less of a maudlin feel and more of a straight-ahead request for an end to the pain.
One thing about Songteller that leaves the listener wanting is the lack of a band. While a stripped-down guitar-voice recording can be endearing, even haunting, pulling off a whole album with that limited canvas leaves some of the work feeling unfinished. For example, "Gatlinburg" calls for a band to expand the spectrum of the sound, as does "Jones", an "almost true" story of one of Jeff's oldest friends. "Jones" stands as one of the highlights on the album with Lane interjecting his verses with "aw-haw-haw", a call out that hearkens back to the non-words of early 50s rock and roll. The meaning would have more emotional punch if some percussion and possibly a bass line were part of the soundscape. Still, Lane's lyrics flow into a simple refrain of the title, sung in Jeff's signature style:
"Walkin' round town in concrete shoes with your arms in the air,
You know that they know that you screwed up, but you hope that they still care.
Jones! What the hell are you doing out here, man? The last time I saw you, you were workin' on your master plan, yeah….. Jones"
A haunting piece, "Jones" has that quality that appears in only a few select great songs: true soul. But, like soul music, it really needs those additional instruments to fully deliver what Lane is doing here. Still, the feel is genuine and the song flows smoothly.
Maybe that's the quality that Jeff Lane delivers in seeming effortlessness. His lyrical song stylings appear to spread the words into his songs much like flecks of paint on a canvas, the image appearing slowly and coming into clear focus when he wants you to see it. Some of the paintings are full landscapes and some are portraits on Songteller. Of course, this trait is not effortless at all. That's the illusion. There's sincere blood on the page with the majority of songs on Songteller. There are some crafted pieces here.
The album closes with "a sad cheatin' song" called "I Drank And I Drank With Willie And Hank". Loaded with humor and general lightheartedness, this hurtin' song is a perfect close to Songteller, an album that takes the listener on a genuine journey through the paths, sidewalks, and bars of lives recalled through well-performed songs. Jeff Lane continues to create new pieces today and will soon be releasing another album, hopefully with a band or additional instruments on some if not all of the tracks. Until then, Songteller is the journey he has left for us to take, and a fine journey it is.  
---
Just Another Christmas
Just Another Night to stream 'Just Another Christmas in East Tennessee,' a benefit concert for Hope House
BY TOM NETHERLAND | SPECIAL TO THE HERALD COURIER
Dec 17, 2020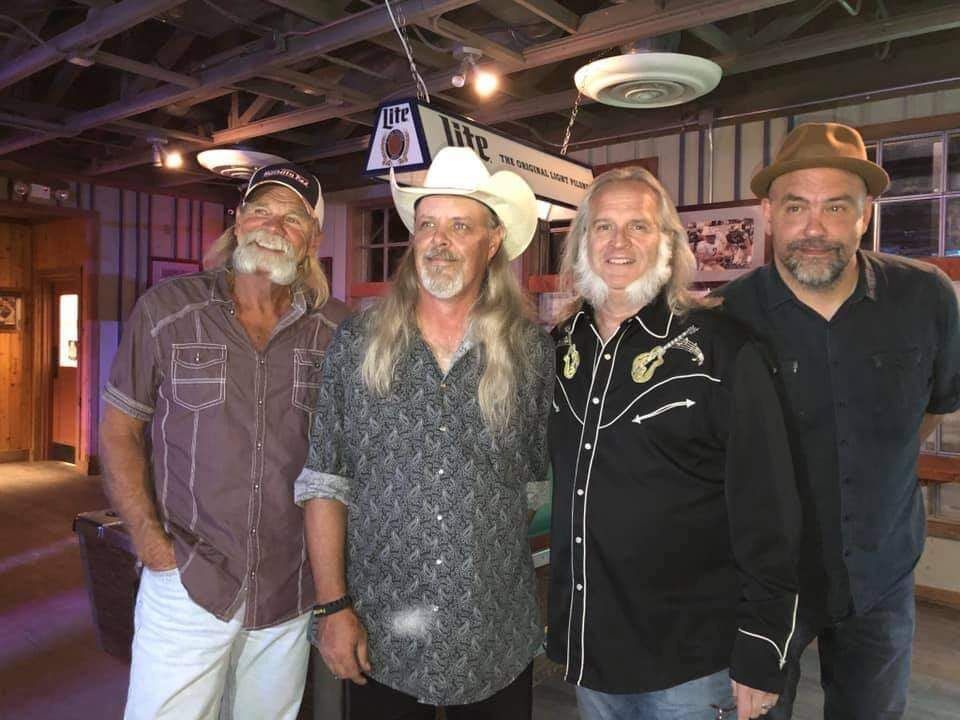 BY TOM NETHERLAND | SPECIAL TO THE HERALD COURIER
If You Watch
» What: Just Another Christmas in East Tennessee
» Who: Just Another Night featuring Justin Mycals, Benny Wilson, Jeff Lane, and Quentin Horton
» When: 5:30 p.m. Sunday, Dec. 20
» Where: Livestream from Murphy's Automotive in Kingsport on Facebook Live
» Admission: $10 Purchase tickets at www.paypal.me/JustinMychals
» Info: 704-763-1891
» Web, audio, and video: www.justinmychals.com
Four songwriting buddies meet on Monday nights to swap songs, sip beer and tell a few tall whoppers.
From that and the pandemic came Just Another Night, a group that features the four songsters who perform via live streams.
That morphed into Just Another Christmas in East Tennessee. Slated to benefit Hope House, Just Another Night streams live from Murphy's Automotive in Kingsport at 5:30 p.m. Sunday. For but $10, viewers receive an invitation to access a link to the group's private Facebook Live page to watch the event.
"Part of the proceeds will go to Hope House," said Justin Mychals, one-fourth of Just Another Night. "We're asking for tips and donations during the show. Three businesses will match whatever we give. If we raise $1,000, then the donation becomes $2,000."Top Articles
Hope House Kingsport serves as a crisis pregnancy ministry. They exist as a residential facility and family life center.
Just Another Night comprises Mychals, Jeff Lane, Benny Wilson, and Quentin Horton. Veteran musicians all, each man highlights a distinct style. For instance, Mychals brands as Appalachian mountain soul.
"I have music ADD," said Lane, whose past includes leading such bands as Hundred Acres. "I flip around to blues or rock or whatever. Justin is one of the best-branded artists I know."
Horton, who played guitar in Hundred Acres as well as for Annie Robinette, leans country. Wilson, long known as a dynamic stage performer, embraces heartland rock.
Cobbled from the region's tight-knit music community, Just Another Night may well have never happened had COVID-19 never happened. Typically much too busy as individual performers to make such a thing as Just Another Night a regular group, the pandemic gave them literal pause and time enough to tinker.
"Without the live streams, this group would never have happened," Mychals said. "When COVID hit, I saw it as an opportunity."
So each Monday night, the quartet met. Then as now, they're apt to pop a top on a can of beer, sit in semicircle fashion, and trade songs. It's low-key yet essential stuff.
"This has been the craziest year of our lives," Wilson said. "I don't know if I could have gotten through this without music at home."
In keeping with the season, an occasional Christmas song may emerge during Sunday's show. Buy entry and tune in. Requests are encouraged, particularly when attached to a tip.
"I'll probably do a rousing rendition of 'Santa Looked a Lot Like Daddy,'" Mychals said. "We all just jump in. Most of our show is improvisation. Benny plays harmonica. Quentin plays guitar and mandolin. Jeff and I play guitar."
But for a seasonal nugget or two during Sunday's Christmas program, the vast bulk of Just Another Night's show features their original material. They're songwriters, each man a spigot from whom songs pour like leaky faucets.
"We're writing so much that we have three or four new songs with every show," Mychals said. "We're doing these shows as a way to get them out."
Listen for Mychals' autobiographical "Miners and Shiners" and perhaps Lane's ribald "She's Been Drinking More Since She Met Me." Songs drip with occasional humor and frequent homage. Some bear sadness like an open wound, others simple observations of not-so-simple moments and people in time.
"In my music, you'll hear little lessons of life that I've learned," Lane said. "You know, I've gotten really addicted to live streams. People need a break from sadness. Some people work from home every day and hardly ever leave. We're trying to provide people a break."
Just Another Night offer four distinct pages from Appalachia. Personalities are different, they're joined at the hip through the power of music.
"We've had people watch from as far away as British Columbia, The Netherlands, and California," Mychals said. "I honestly think this is a must-see show."
Tom Netherland is a freelance writer. He may be reached at features@bristolnews.com.
---
Jeff Lane rolls in a lane by himself
BY TOM NETHERLAND SPECIAL TO THE HERALD COURIER
Aug 11, 2016 Updated Apr 17, 2019
BY TOM NETHERLAND SPECIAL TO THE HERALD COURIER
BRISTOL, Tenn. — Jeff Lane took a swig from a longneck bottle of beer. A thought occurred to him in the moment, which he pondered and fired as if from the big iron of a gunslinger's holster.
"Comfort zones are boring," said Lane in a squint-eyed fashion. "Period."
He ought to know. Hear Lane ply his songwriting trade on stage at Bristol's Studio Brew on Aug. 14 and again at Elizabethton's Jiggy Ray's on Aug. 20. Catch him down the line any old time as a member of Hundred Acres and new band the Real Life Heavies. Whichever, whatever, and however — Lane resides in a lane that's altogether beyond one of convention.
"I do the singer-songwriter thing when I'm solo," Lane said. "The Real Life Heavies is classic rock meets soul meets funk meets R&B meets disco. I would classify Hundred Acres as more of an Americana, honky-tonk, mountain soul band."
Lane's neither country nor bluegrass. He grew up learning rock of the 1980s, playing guitar for hours in his bedroom. For years thereafter, he rarely played music for folks other than close family and friends.
"I wrote songs for 20 years before anyone knew," he said.
About seven years ago, inspired by the loss of his farm amid the near depression of an economy, Lane and such buddies as Quentin Horton formed Hundred Acres. An outlet was born.
"We recorded our first record before our first gig," Lane said. "We released it on my 40th birthday. I was scared to death. That's what I like about this new band (The Real Life Heavies), too. You can feel your heart flutter a little bit."
Though he's not a country singer, Lane's life reads like a George Jones country song. He's lived, loved and lost. He's been up and he's been down.
"Over and over," Lane said. "It's things like that which make songs. Not all songs have to be true stories, but sometimes it's only one little piece that's happened in my life."
To meet Jeff Lane one would never know of the hardship he's encountered. He smiles like a bird who's perched atop the world. The man seemingly never met a stranger. However, hear him on stage. Whether it's his popular "I'm Gettin' Married in Gatlinburg Again,
the epic "Best Times" or a pensive "Rings" Lane's songs touch upon a wide gamut of feelings.
"Music is about one thing — creating emotion," he said. "You can make people happy. You can make people sad."
Lane put his beer down. His wall came down for a moment upon mention of his mother. Water from the wells of home gathered in his eyes as he looked straight into the eyes of the reporter.
"Yesterday was 15 years since my mother passed away," Lane said. "She was my biggest supporter. Imagine hearing me try to learn Queensryche, Van Halen music on guitar, five hours a day. She always said she loved it anyway."
From those initial mines of inspiration blossomed the music of Jeff Lane. He creates Jeff Lane music, a style within his own. Its soul mu-sic as gathered from his deepest veins of substance.
"I just want to be remembered," Lane said.
Tom Netherland is a freelance writer. He may be reached at features@bristolnews.com.